Easily align your marketing messages & offers across your entire dealership body.
OEMs often spend millions in advertising hoping to influence in-market buyers. The problem is that the message isn't always consistent across national, regional, and local advertising efforts.
The region is pushing a $199/mo lease while the local dealerships are doing all sorts of varied things. What if you could fully align your message once and for all and eliminate the confusion for your end customers?
With Autosigma we provide an easy way to organize and distribute messaging across your entire organization. This makes it easy for tier 3 dealerships to utilize these messages and unite your brand's efforts. It's a win-win for everyone.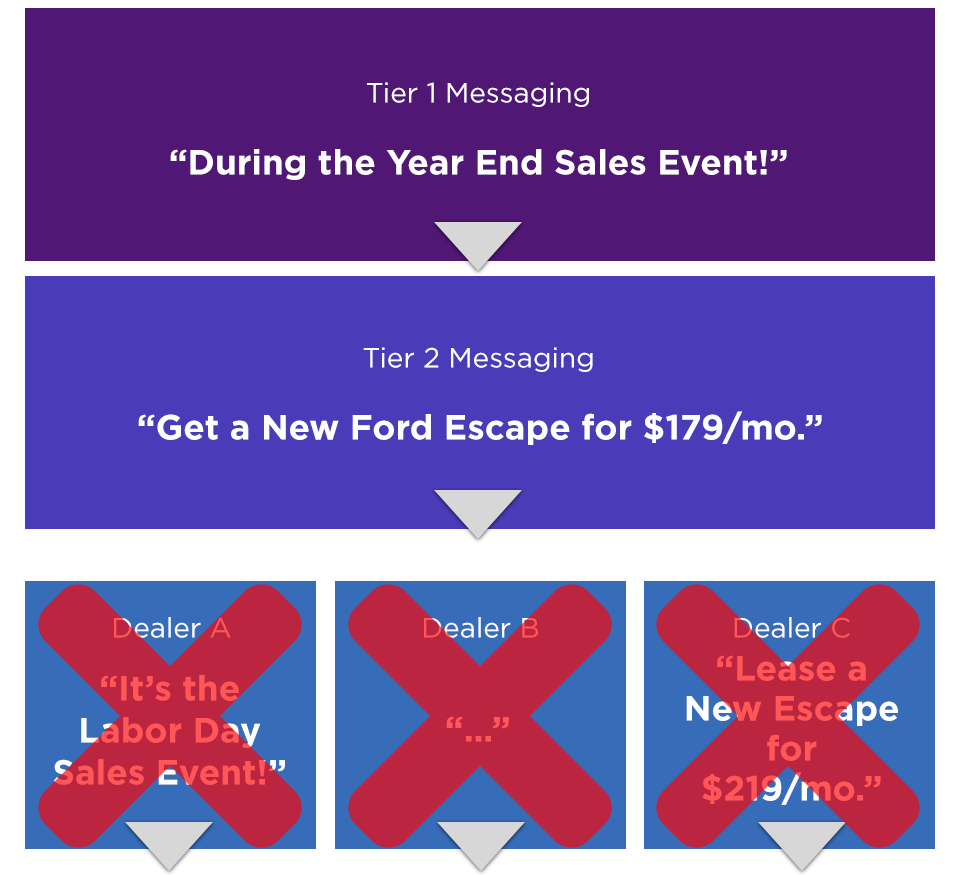 *We are not affiliated with Ford Motor Company
When your brand works with Autosigma we are able to provide tier 3 dealerships with everything they need to automate a large portion of the digital marketing efforts. If dealerships have access to these turnkey programs, they will use it. With Autosigma, dealers can sync tier 1 and tier 2 messages with all of the channels that matter most:
Website Slides
New Vehicle Specials
Dedicated Vehicle Landing Pages
SRP & VDP Leaderboards
Google Ads*
Facebook Ads*
Google My Business
Email Marketing
Direct Mail
Radio Scripts
& More!
*With select agency partners
Quit wasting time and start saving money. It only takes a few minutes to learn how we can add value to your OEM.
Frequently Asked Questions
You've got questions and we've got answers. Here are some of the most common questions that come up from prospective partners.
Yes! Our software platform allows us to easily scale quickly accommodating the needs of hundreds or even thousands of dealerships. 
YES! We've found that the adoption rate is very high since it eliminates friction for the dealerships. If you offer this to your dealership body, they will use it. 
OEMs often struggle with aligning marketing messages between tier 1, tier 2, and tier 3 efforts. With AutoSigma we have a cascading structure to easily flow information downward and help align messaging. A short demo will quickly demonstrate how this works.